Rolf Nykmark
Photo of Rolf Nykmark
Address: Ragna Nielsens vei 9 0592 Oslo / Norway
Mobile: +47 402 28 995
Rolf Nykmark graduated from the The Norwegian State Academy with prof. Terje Kvam, Tor Skauge, Arnulv Hegstad and Per Dreier, as his teachers in conducting, choir and orchestra. He has worked with conductors such as Per Dreier(1929-1997), conductor of numerous orchestras all over Europe, such as The Royal Philharmonic Orchestra in London and London Symphony Orchestra, Militiades Caridis (1923-1998) and Massimo Lambertini (assistant conductor to Riccardo Muti at the Ravenna Festival).
Nykmark has a huge repertoire as conductor, and it consists of Opera, Operetta, Church music and musicals for chorus/ soloists and orchestra.
Nykmark has performed as a conductor and baritone singer in Scandinavia, England, Germany, Austria, Hungary, Estland and Russia. Nykmark has performed with Wandsbeker symphony Orchestra (Hamburg) and with The University Symphony Orchestra (Oslo), The Oslo Chamber Orchestra (Oslo), Thaxted Festival Orchestra (Thaxted, Essex), The Latvia Philarmonic Chamber Orchestra (Florence, Italy), The Orchestra "Barrokanerne" (Oslo) / GLORIA / Vivaldi , The Nordic Ensemble of Japan (Suntory Hall, Tokyo), The Hague Philharmonic and with mixed orchestras consisting of professional musicians from The Oslo Philharmonic, The Norwegian Broadcasting Symphony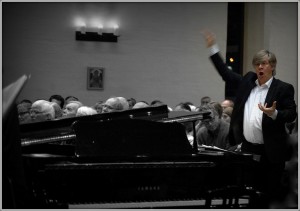 Orchestra, The Norwegian Opera Orchestra, The Stockholm Philharmonic and the Bergen Philharmonic.
Nykmark has been a conductor & soloist in numerous Cantatas, Masses and Oratorios by Bach, Händel, Mendelssohn, Haydn, Mozart (Missa Brevis in d-minor and Missa Brevis in G-major), Faure`(Requiem), Puccini (Missa Da Gloria), Saint-Saens, Plagge, Groven, Monrad Johansen and Kvandal (Natur op.50 and Draumkvedet). Recordings, TV 2- and NRK.
.